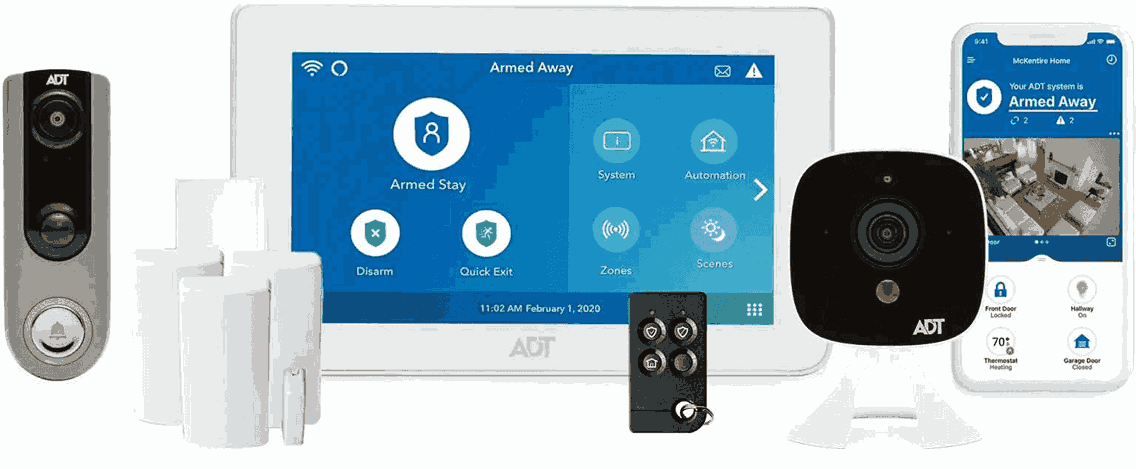 Home Security Company Serving Boston MA
Secure 24 Alarm Systems understands the importance of knowing your home is more secure when you're there or away. That's why our security solutions are designed to offer comprehensive protection. We understand that every customer is unique. As an ADT authorized security dealer, we offer tailor-made solutions for those looking to increase the security of their home and loved ones.
Step into the next era of home security in Boston, MA with Secure24 Alarm Systems. Our cutting-edge smart home security systems can offer you an unparalleled blend of protection, convenience, and peace of mind.
Home Security Consultation and Installation for Boston Homeowners
Secure24 delivers professional consultation, expert installation, and customization that exceeds the standards of traditional security setups. In some cases, installations can occur within 24 hours. Customize your system to include:
Interior and Exterior Cameras: Keep an eye on your home, whether you're at work, out for dinner or vacationing. Live video let's you check up on things to ensure all is safe and secure.
Motion Detectors: Receive immediate alerts about any unusual activity, protecting what you love.
Video Doorbells: See and interact with visitors remotely, enhancing both security and convenience.
Smoke Alarms: Get early warnings about fire hazards, ensuring your family's safety.
Control Panels: Effortlessly manage your security settings, offering you peace of mind.
Battery Backup: Ensure uninterrupted protection, even during power outages.
Live Remote Camera Viewing: Stay connected with real-time video monitoring of your property on your smartphone or tablet, wherever you are.
Secure 24 an Authorized Dealer of ADT Security for Boston Residents
We appreciate the value of trust in safeguarding your home. That's why our home security systems in Boston are proudly monitored by ADT, a renowned name in the industry. ADT monitoring ensures constant surveillance of your alarm system's status, providing peace of mind 24/7, whether you're at home or away.
Affordable Home Security in Boston Homes
We believe that safety should be affordable. Our advanced security systems let you help protect what you love without breaking the bank. Choose from a variety of security features and packages that fit your lifestyle and budget. Rest easy knowing you've made a wise investment in the safety and security of your Boston home.
What Makes It "Smart" Home Security?
Smart home security means more than just alarms. It means enhanced convenience, safety, and efficiency through home automation. With our smart security systems, you can:
Access and Control Your System Remotely: Manage your security settings, view camera footage, and receive alerts on your smartphone, offering you peace of mind no matter where you are.
Enhance Convenience: Features like video doorbells enable you to see who's at the door and communicate with them, all from your phone.
Increase Efficiency: Enjoy energy savings by remotely controlling lights, thermostats, and more.
Receive Smart Alerts: Get notified about important events, such as when your kids arrive home from school or if a smoke alarm goes off.
Serving Boston's Estimated Population of 675,647
Imagine the peace of mind that comes from knowing your home and loved ones are more protected with an advanced and reliable home security solution. With a city as vibrant as Boston and an estimated population 675,647, we understand how important the need for proper home security is for you. Secure24 alarm systems in Boston is here to help protect you, your loved ones, and your property, helping to ensure that your home remains a safer and more secure place to live.
ADT Security in Boston is a leading provider of comprehensive monitoring security services
ADT specializes in offering a wide range of solutions to help individuals and businesses safeguard their properties, loved ones, and assets. ADT's services typically include:
Burglar Alarm Systems: ADT monitors state-of-the-art burglar alarm systems, including motion detectors, door/window sensors, and control panels, to protect against unauthorized entry.
Fire and Smoke Monitoring: Their services include fire and smoke detection system 24/7 monitoring to alert authorities in case of a fire emergency.
Video Surveillance: ADT offers video surveillance monitoring with high-quality cameras, allowing homeowners and business owners to monitor their properties remotely.
Smart Home Integration: ADT integrates smart home technology, enabling customers to control security systems, lighting, thermostats, and more through their smartphones or devices.
24/7 Monitoring: ADT's security, constantly monitored by professionals, ensures immediate response to alarms or emergencies.
Medical Alert Systems: ADT provides response to medical alert systems with wearable devices, enabling individuals to call for help in case of medical emergencies or falls.
Access Control: They offer access control solutions, including keyless entry systems, to manage and restrict entry to specific areas.
Carbon Monoxide Detection: ADT's services include carbon monoxide detector monitoring to help protect against this silent but deadly gas.
Flood Monitoring: They offer flood and temperature detection monitoring to alert homeowners and businesses of potential damage.
Energy Management: ADT integrates energy management solutions, allowing users to optimize energy usage and reduce costs.
ADT Security prides itself on its commitment to customer safety and peace of mind through cutting-edge technology and 24/7 professional monitoring services. Their services are designed to provide comprehensive security solutions tailored to the specific needs of their customers.
Contact Us Today for Your Smart Home Security Needs
Think about the relief you'll feel when you no longer have to worry about the security of your home and family members. Call (877)-866-4501 or complete the form at the top of this page to schedule the installation of advanced smart home security systems in Boston, MA. Experience the future of home protection and enjoy the peace of mind it brings. Your safety, convenience, and affordability are our top priorities.